In 2011, the SALVEO study group conducted questionnaires and biological testing among more than 2100 employees from 63 organizations. They found that over 21% of the working population (aged 20 to 64 years) suffers from a mental health disorder or mental illness1! What are the major factors contributing to the development of these disorders and do employers have any control over the incidence among their employees?
In the following tables, the areas in green indicate criteria protecting against the surveyed disorders, the areas in red identify the factors leading to an incidence of disorder and the areas in white reflect survey factors for which researchers could not find any statistically significant effect (Source: SALVEO Study, 2011).
1 The study's definition of a mental disorder or illness is defined as depression, burnout or psychological distress.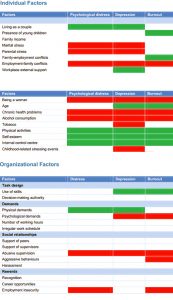 What can employers do to reverse the trend of mental illness in the workplace? For starters, employers need to protect their employees by preventing abusive supervision. Two such strategies could include staff seminars on topics such as, 'respect in the workplace' and 'prevention of burnout'. In addition, employers could implement a comprehensive health and wellness program by offering lunch hour exercise classes or employee health spending accounts. A health and wellness program could reduce the incidence of depression, as well as promote a healthy work-life balance.
It is evident that employees whose work life infringes on their family life are at higher risk for developing mental disorders and mental illness. Employers who encourage a positive work environment will not only be protecting their employees from these disorders, but are sure to see positive effects on both productivity and morale in their workplace!
Refer to the article for more details: http://www.standardlife.ca/en/pdf/press/en_salveo_study.pdf